the long and winding road TO ENVIRONMENTAL RESPONSIBILITY
Words by KOSTÜME founder, Ed bartlett
---
At Kostüme, we believe in business as a force for good. And, while we don't claim to have all the answers yet, we promise to be honest and transparent about both our successes and failures, and the decisions behind them.
'The take, make, waste model of consumption that has reigned for so long in the garment industry is unsustainable. I knew that Kostüme had to be different from day one. As a new father, I want to leave a planet that is habitable for my child and for future generations. The focus for Kostüme is doing things right from the start, and ensuring that environmental responsibility is at the heart of how we think and what we do.' Ed Bartlett, Kostüme founder.
At Kostüme, we take a long-term strategic view on everything we do, considering our impact in a complete and holistic way.
Our staunch independence and the efficiency of our business model allows us to take greater risks than many brands, meaning that we can focus on combining cutting edge R&D, premium materials, and ethical, environmentally-friendly production, whilst still offering competitive pricing for our products.
Our Planet First ethos is based on four core elements:
Limited edition

pre-order model
Smart design
Partner participation

Rigid self governance
LIMITED EDITION pre-order model
---
Kostüme was conceived from day one with our limited edition pre-order system in mind. The idea is simple, yet ruthlessly effective: only the products ordered by customers get made, ensuring no waste, no unwanted stock, no damaging sales, and no unsold products destroyed or sent to landfill.
The number of products available in each of our Edits is small - just 350 of each item will be made available for #Edit001, globally.
This focus on 'small and limited' allows us to produce premium products at a much more competitive price than would otherwise be possible, since we aren't playing the high-risk guessing game that most fashion brands play when trying to match up-front production costs and volumes with predicted RRP's and sales volumes. This allows us to spend more money specifying state of the art materials and processes, with a focus on sustainability. It's a virtuous circle.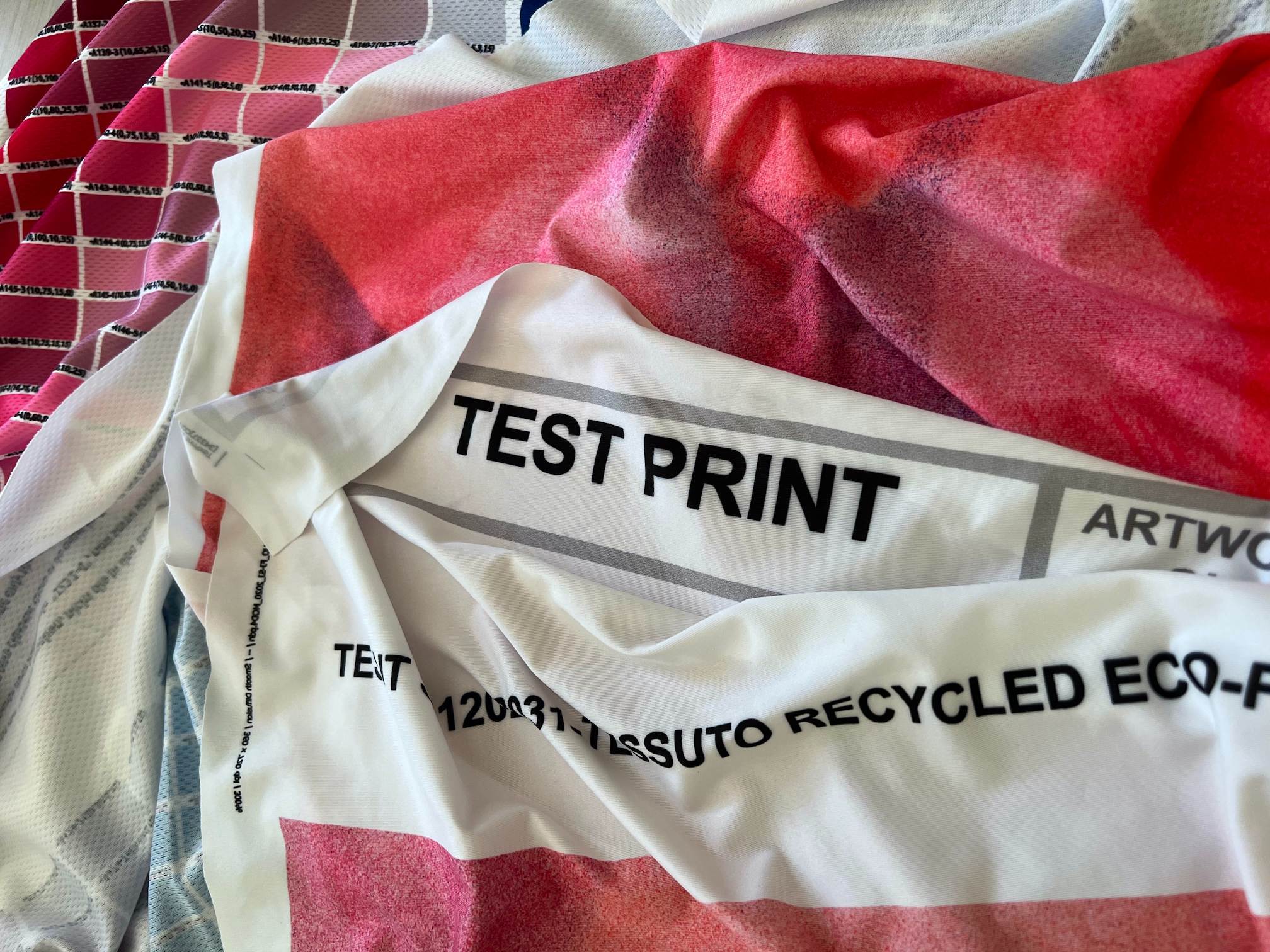 Most importantly, our model puts a self-imposed limit on the number of products we make, and smaller production runs require less energy and resources - and ultimately less overall demand - on the environment. This isn't just about the initial raw materials or manufacturing, it directly impacts on the whole product lifecycle, from shipping, packaging and warehousing through to product care and end of life processing.
This single business decision currently has more positive impact on our footprint than every other effort we can make, combined.
---
What we choose to make and why
Our smart design philosophy begins before we even put pen to paper. Our decision on what products to make is simple: If it already exists and we don't think it can be improved, we don't make it. (You'll notice that we don't have socks in our launch range, despite how simple and commercial it is to tap into the 'sockdoping' craze.)
It may sound obvious, but we choose to only make products that we believe will measurably improve people's time on their bikes. Our goal is to make better cycling apparel, and to make cycling apparel better. Every single product developed and sold by Kostüme has come about directly through frustration or inspiration (more often both) experienced while riding our bikes, combined with the creative desire to find innovative solutions.
How we design it
Our approach to the development and manufacturing of our products can be summed up in a single word: uncompromising.
Our design process looks holistically at each product, starting with what problems need solving, moving on to market research to test our theories, and then the all-important prototyping phase known as sampling.
At Kostüme we are obsessed with finding the latest and best fabrics and materials, both for their high performance, flexible use cases and environmental credentials. This is an area that is developing incredibly rapidly. Unfortunately - despite what most fashion marketing would have you believe - simply using recycled fabrics does not automatically make a product sustainable. In fact, recent research has suggested that some recycled fabrics might actually have a larger carbon footprint due to the high-energy processes involved in their production. It's a complex area, and why the best way currently to really limit your impact is simply to make less stuff.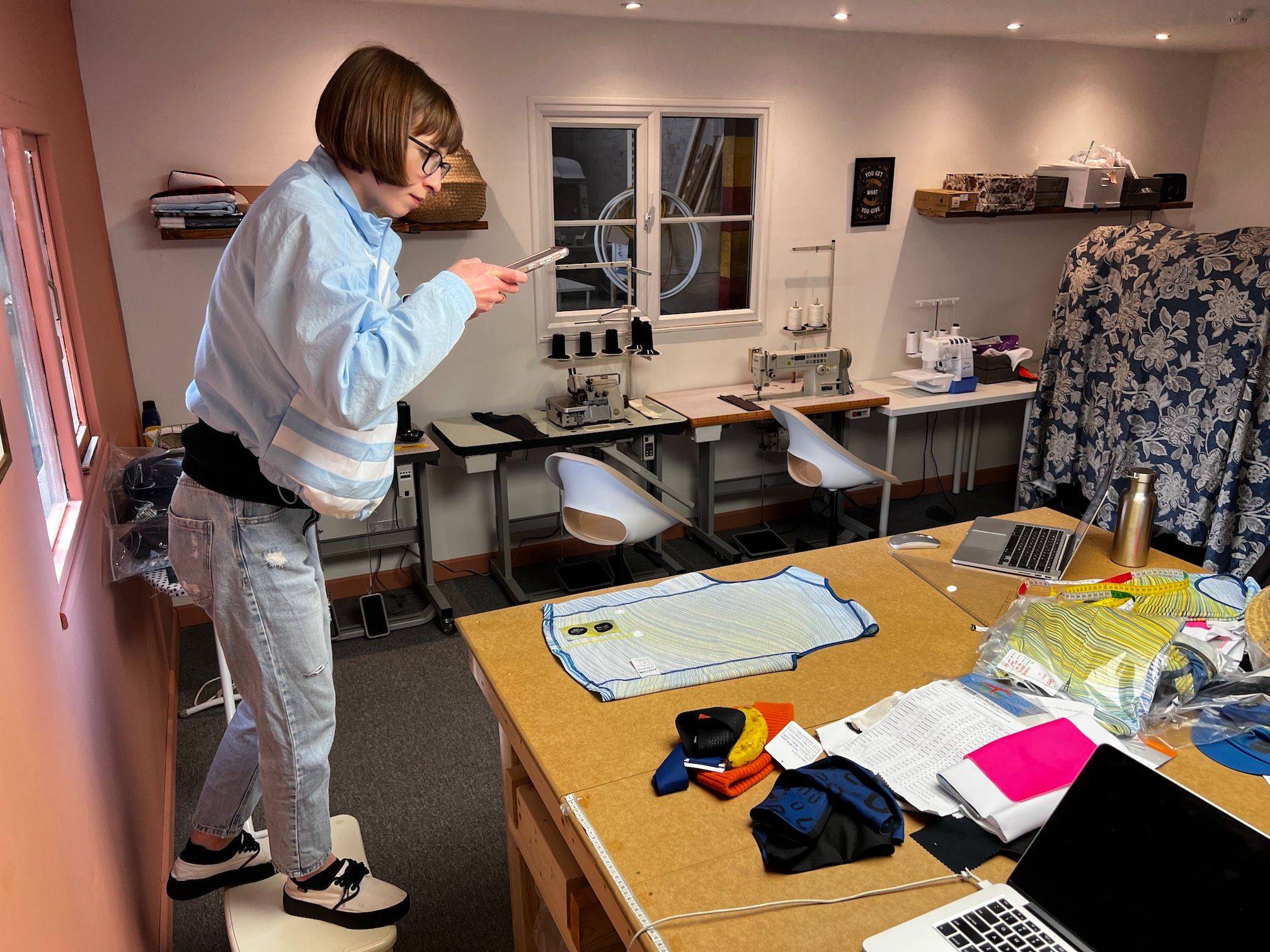 Our smart design philosophy looks not only at what materials are best to use, but also how to minimise the quantities needed, including by sharing them across as many products as possible, and find ways to make use of offcuts.
The results? Our launch range of 7 technically very different products features only 5 different fabrics. If you look closely, you'll see our bib short fabric appears on our arm and knee warmers, offcuts of our jersey fabric are put to good use on our cap and neck warmer, and our cap fabric is now used for our jersey pockets. And this is just the start!
How we manufacture it
We only work with socially and environmentally responsible nearshore manufacturers (currently in Italy and Romania) and this applies to material sourcing wherever possible too.
We are working closely with our partners to use production innovation to further limit our waste. One quantifiable example is our Italian partner printing the silicone gripper directly on our bib short fabric after pattern cutting, rather than buying it pre-printed on a roll. This one innovation saves significant fabric wastage.
We also look at minimising the use of non-essential trims, products and processes. For example we focus on using fabrics that allow us to print colour, rather than use dye. We keep use of heat transfer applications to a minimum, focusing on rider safety via reflective transfers rather than for overt and unneccesary branding. We are even printing key product information like sizing directly onto the garments rather than using labels or transfers. All of this helps to reduce our impact.
Beyond the core product manufacturing, we use 100% compostable bags for packing and shipping, and choose not to add a hang tag to each item.
As we grow, we will track and report this information annually to ensure we are always pushing ourselves to do more.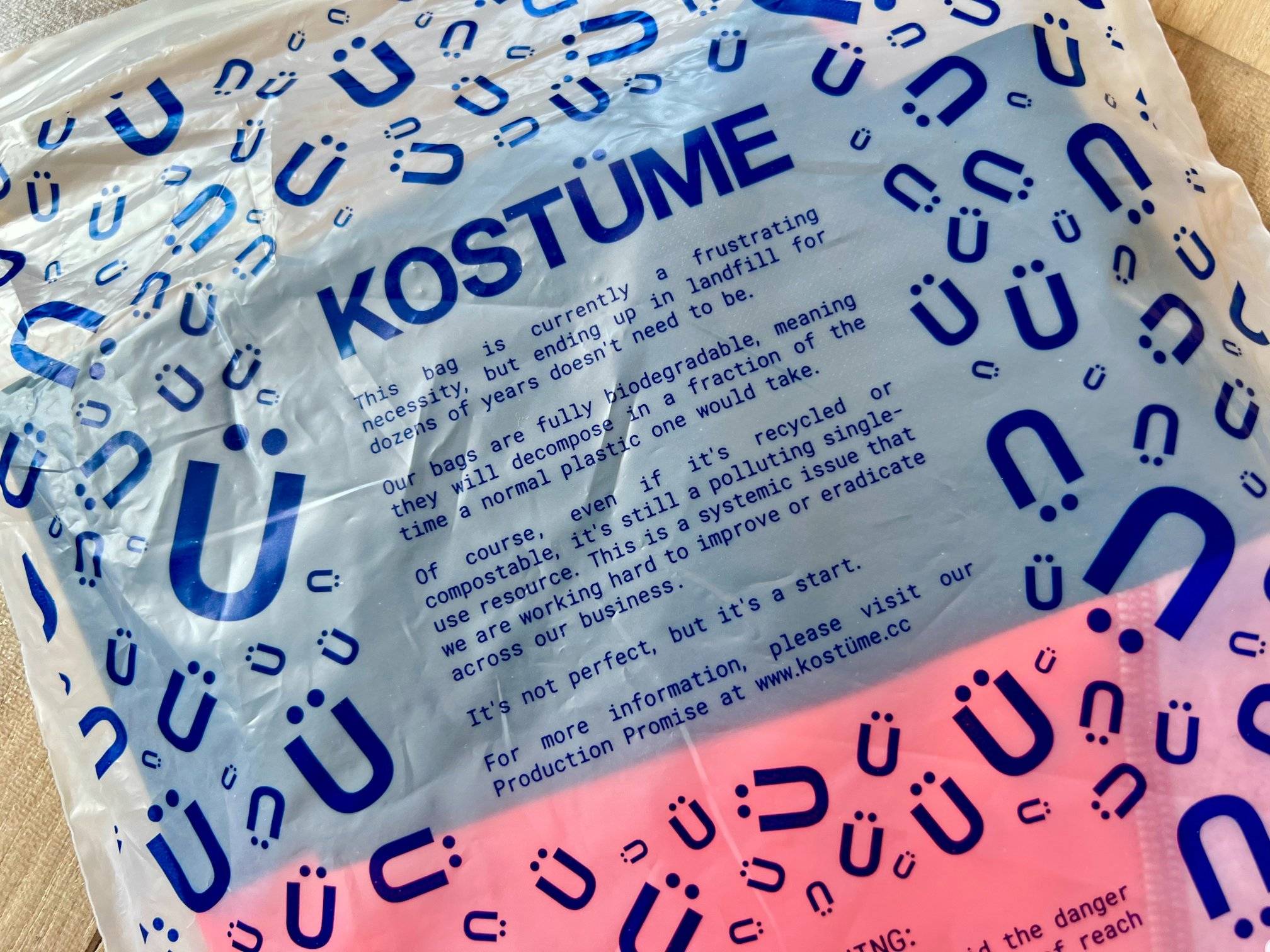 ---
Kostüme works with partners who are proactively tackling their own environmental impact.
We have partnered with Stripe Climate, meaning we contribute 1% of every Kostüme transaction to projects that actively remove CO2 from the atmosphere.

https://stripe.com/gb/climate

The factories we work with are based in Europe and exceed EU requirements for 'green' practises.

Both factories are family owned and run, with decades of experience and a deep ongoing commitment towards the environment.

Our Romanian factory is currently investing 1.2m Euro in solar panels, meaning that 65-70% of their energy will come from renewable sources

Our Italian factory has installed skylights to reduce the requirement for strong electrical lighting.
If you work in a field that offers products or services that could potentially help Kostüme do better in any part of our business, please get in touch. .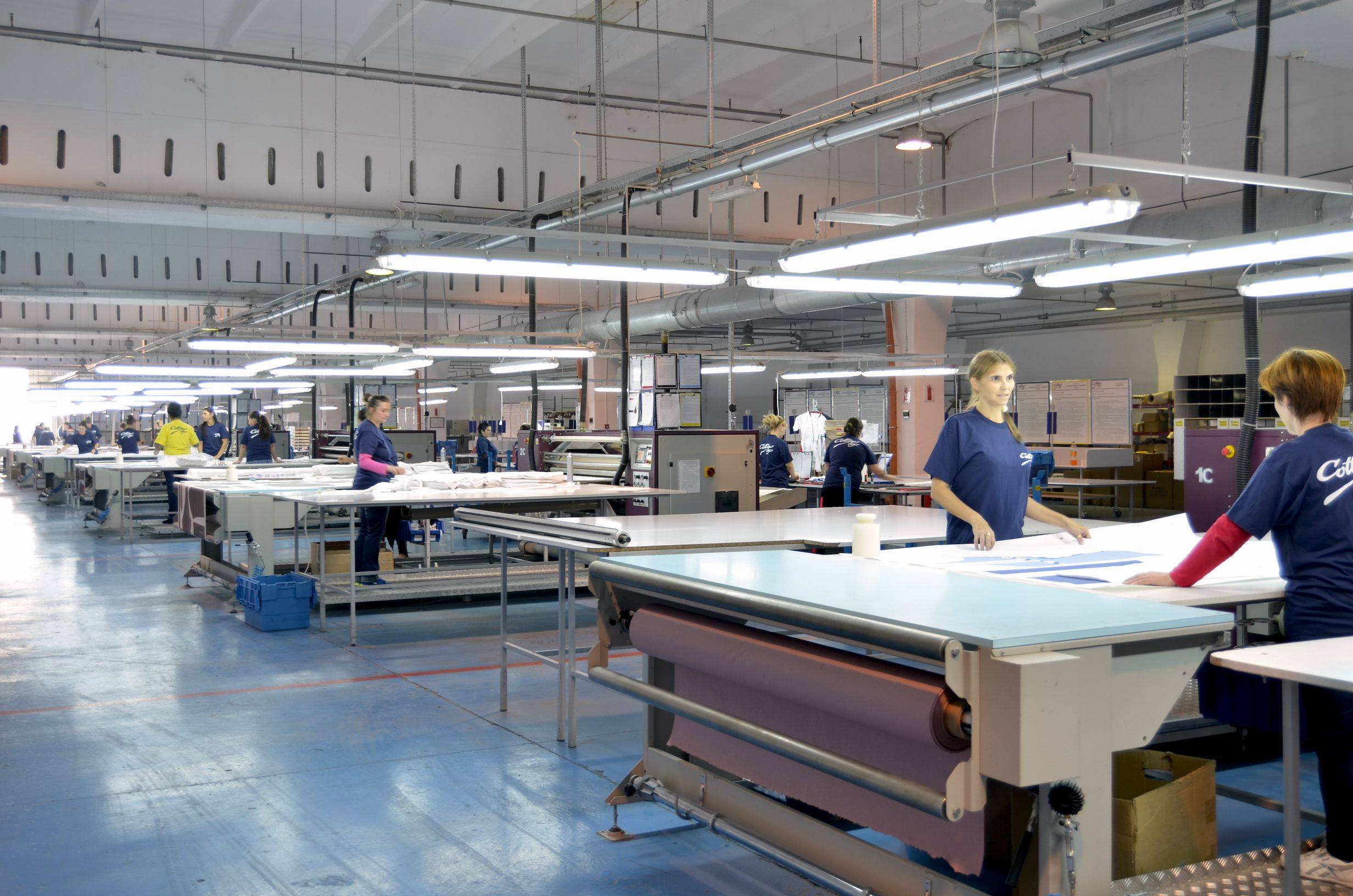 ---
For all of us, both brands and consumers, there is a need to take more responsibility for our own environmental impact. As a customer, we appreciate your support more than anything. We literally exist for you. But it's also good to sometimes stop and ask 'do I really need this new jersey?' We wouldn't blame you if the answer was sometimes no.
At Kostüme we ask those questions of our own actions every day, because every decision has an impact.
Currently our operation is entirely managed remotely, with no fixed office overhead. The core operations are run from the founder's home in Bristol, with technical product development handled by Get Stuff Made in Kettering. It's difficult to imagine a more lean setup.
Fortunately, Bristol is surrounded by an incredible mix of terrain for riding bikes. Every shape, type and gradient of tarmac, gravel, rock and mud. Even the typically mixed British weather, with fronts lashing in off the Atlantic, only adds grit to our product development.
And so what better place to do our launch campaign photography? Why fly people, kit and bikes to a far-off mountaintop when you have the picturesque Cotswolds and the moody docks of Bristol on your doorstep? We even did the tracking shots for the riding images using pedal power.
Our environmental ethos is not a marketing decision, it's baked in as standard.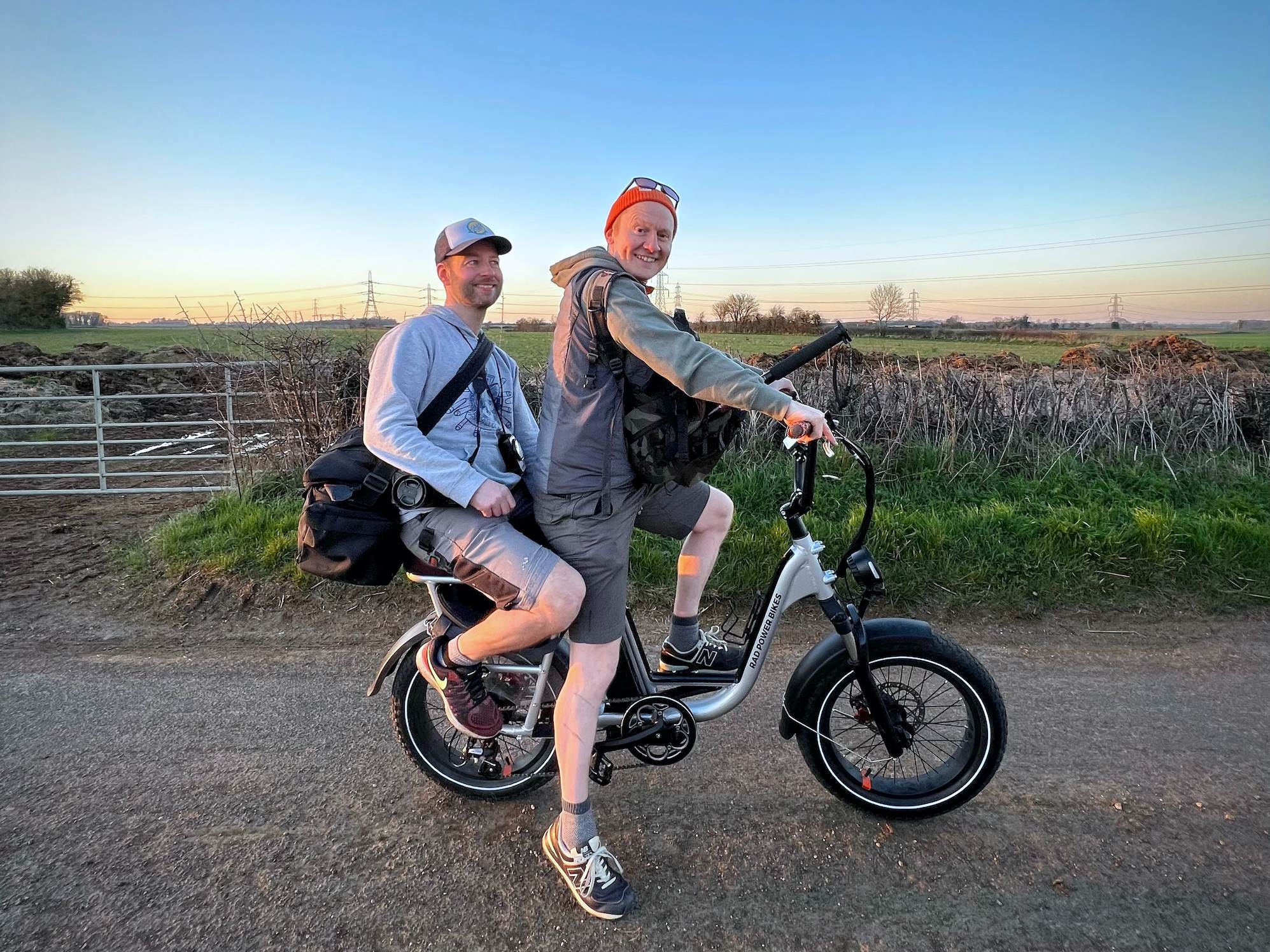 ---
There is still lots of work to do, and we will be focusing next on best practise for logistics and shipping, with near future plans to address the 'reuse, repair, recycle' requirement we set out in our original business plan.
We have ambitious plans for our environmental responsibility as we develop and grow. And we anticipate that our ambitions, commitments and actions will develop and grow with us, too. Our intention is to instigate a more formal annual audit of our impact, which we will publish publicly each year. We also plan to apply for B Corp certification, as we believe from significant research that this is currently the most robust and trustworth all-round accreditation for a responsible business. You will see many brands boasting of various types of environmental accreditation, but - as Norway recently showed with their rejection of the Sustainable Apparel Coalition's HIGG Index - few of them are actually robust. We advise you to do your own research and make your buying decisions accordingly.
If you have any questions, or you work in a field that offers products or services that could potentially help Kostüme do better in any part of our business, please feel free to get in touch.