Posted by Ed Bartlett on 5th Jul 2023
ONE BIKE TO RULE THEM ALL?
Thanks to a fantastically diverse local riding scene in my hometown of Bristol, I came to learn about the Audax discipline fairly early in my road cycling journey. Arguably one of the oldest forms of organised cycling, the word is derived from the Latin for 'bold' and essentially translates in practice to riding long distances at your own pace on a prescribed route, with regular control points both for refueling as well as to ensure the route is followed. It's determinedly not a race, although there is an upper time limit. With many of the routes seemingly created by masochists intent on piecing together kilometre after kilometre of the most interesting, scenic and least-travelled roads, it's an amazing way to explore on your bike with relatively minimal fuss, and immediately appealed more to my innate sense of adventure than the well organised but fairly soulless Sportive's I'd found myself riding.
As luck would have it, it turned out that my local club, Audax Club Bristol, was one of the most active and respected in the country, which helped me to quickly learn my way around what can seem at first like an impenetrable set of rules.
With rides starting from 50km all the way up to a mind-bending 1400km, the most common distance is 200km, known as a 'Brevet de Randonneur' (or BR for short). Most committed Audax riders - or 'Randonneurs' as they are colloquially known - will eventually target coveted Super Randonneur status, achieved by completing qualifying rides of 200k, 300km, 400km and 600km within the same season.
The exceptional few will go on to ride flagship events like London Edinburgh London and the historic Paris Brest Paris, although with long distance cycling growing in popularity, the 2023 edition of the latter is expected to see an incredibly diverse field of more than 6,000 riders take part.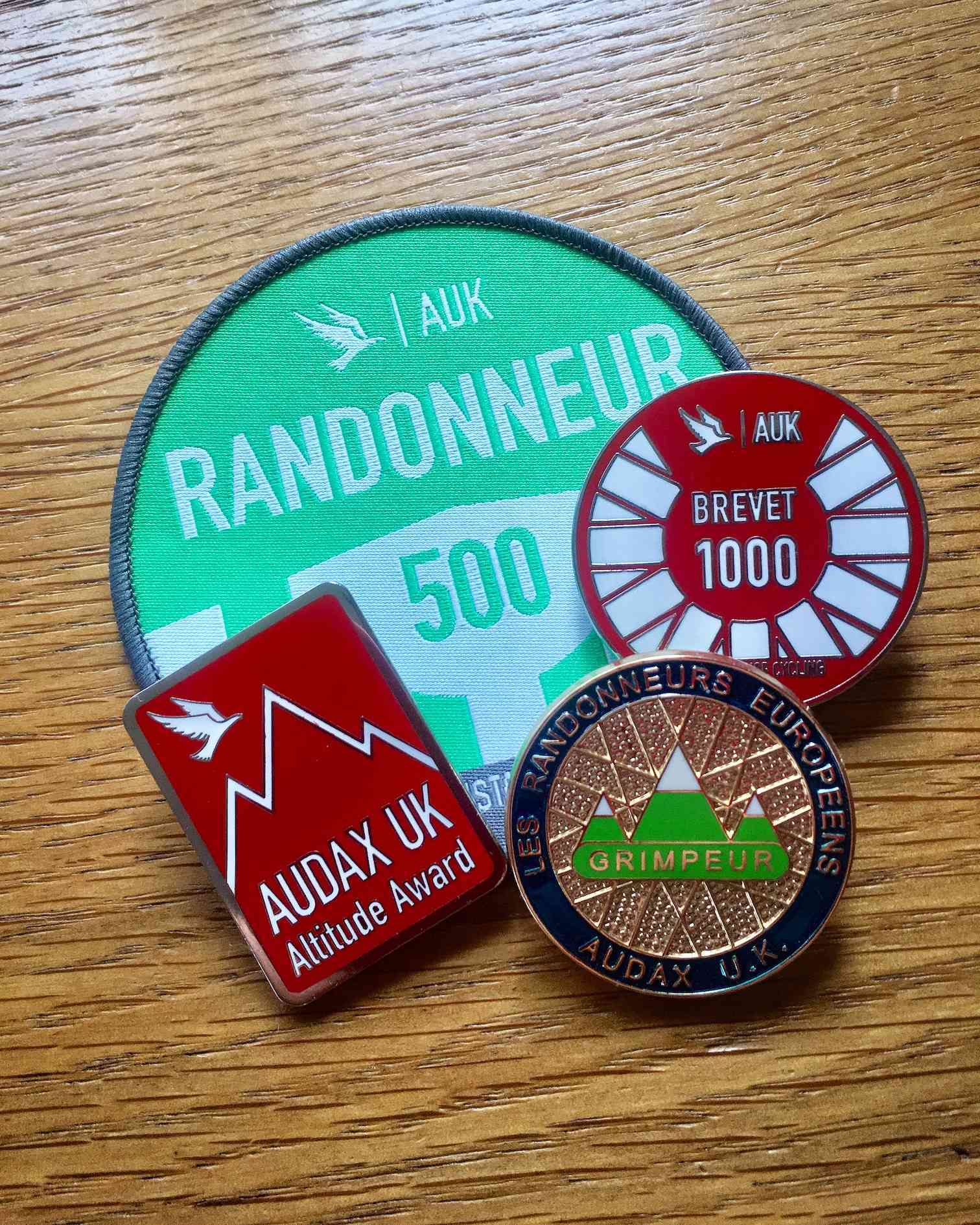 If you enjoy awards and badges, you'll love Audax
As I gradually progressed to completing regular BR-level rides, I found myself limited not so much by legs or lungs as expected, but by apparel performance and wrist and neck issues. Frustrations with the former actually led to me founding Kostüme, but despite major changes to the setup of my ex-hire Trek Domane, my bike increasingly felt like the limiting factor for the longer adventures I hoped to have.
Around the time of completing my first 'Rouleur Round the Year' (achieved by completing at least one 200km BR-rated ride per month for 12 consecutive months) I began thinking more proactively about the ideal bike for my needs – something I imagine every reader, whatever and wherever they ride, has at least daydreamed about at some point. My goal? Comfort, simplicity and adaptability - 'one bike to rule them all' - and I had a powerful hunch that the key was in the tyre setup.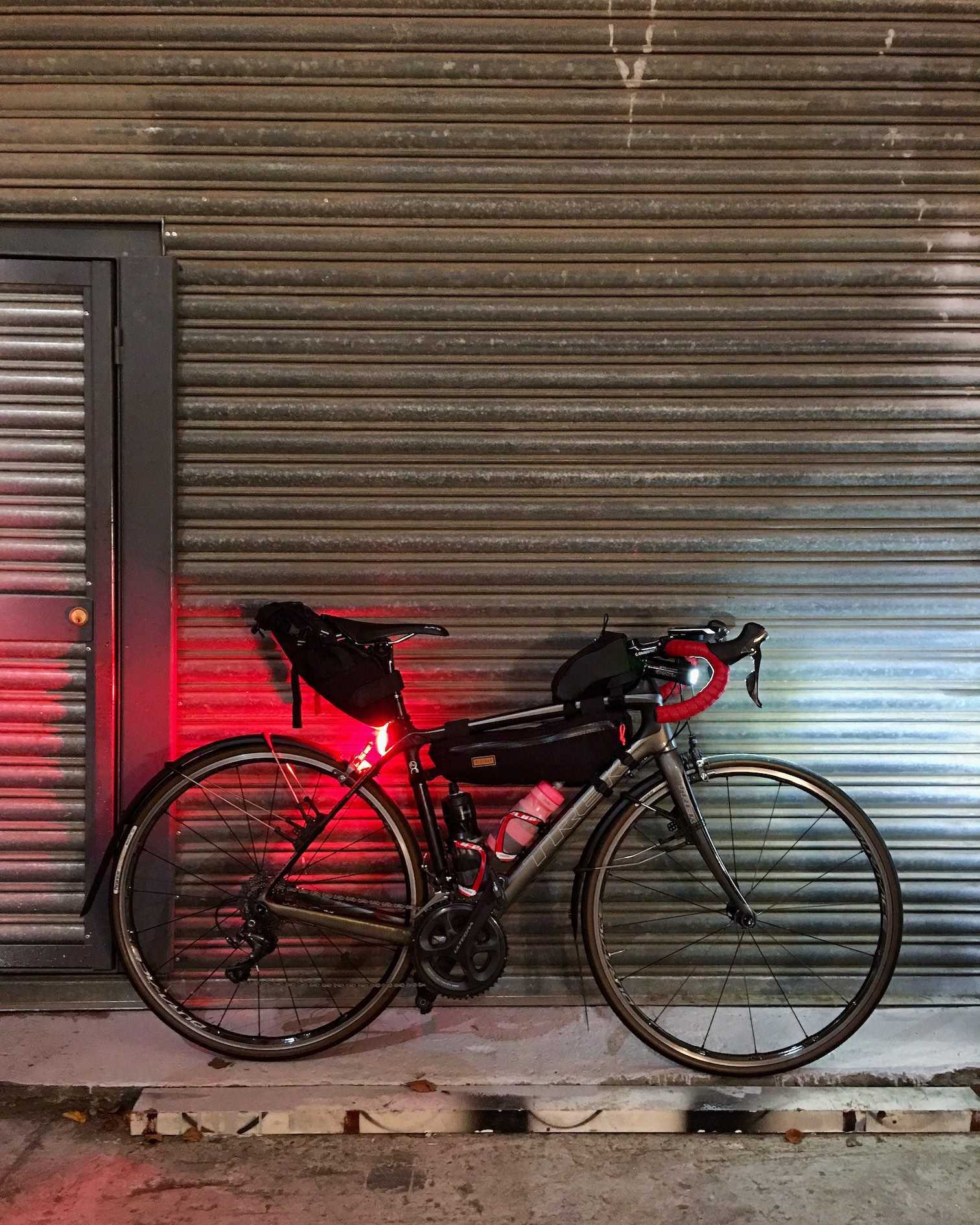 The Domane was designed for Endurance, but it's not ideal for bigger adventures
With the Domane limited to 28mm tyres run at high pressures, I wondered if fatter tubeless rubber run at lower pressures could provide better insulation from road noise whilst also actually rolling faster thanks to a smaller contact patch. I also wanted something that could handle some multi-surface use including bike packing, but that would still hold its own on fast tarmac segments.
The full shortlist looked something like this:


High-volume tubeless slick tyres
Hydraulic disc brakes to help with hand fatigue
Electronic shifting and/or a 1x drivetrain to minimise wrist strain
Flared handlebars for more natural and varied hand positions
As light build as possible to aid climbing
Adaptability for gravel rides/bikepacking kit including a permanent frame bag


My first thoughts were to go the custom steel or titanium route popular amongst fellow Randonneurs, but having only ever experienced carbon frames, my first demo of metal didn't exactly set my world on fire. A couple of bike shows passed fruitlessly and I drove myself (and riding friends) slightly crazy with my ongoing obsession.
I'd looked at the then-newly-released 3T Exploro already, but despite ticking all of my boxes, the RRP put it out of reach. Until, that is, a fateful 'flash sale' email arrived with the kind of discount that made my pulse quicken. A few YouTube reviews and a first-hand opinion later and I placed my order the same day, content from studying the geometry that the fit would be good.
My first impression upon unboxing was that the chunky 'squaero' frame, with its trademark dropped chainstay looked much better in the flesh than in pictures, followed by a sharp intake of breath at the size of the 47mm gravel tyres supplied. The Exploro is designed to accept both 700c and 650b wheels, and with my bike being supplied with the latter I planned to fully test the theories behind supersized road tyres. Despite a growing mountain of evidence, some still see the buzz around fat tyres - and especially 650b - as a bit of a marketing gimmick. But, in fact, it was historically a popular wheel choice for mid-20th century French Randonneurs, who knew more than a bit about long distance cycling!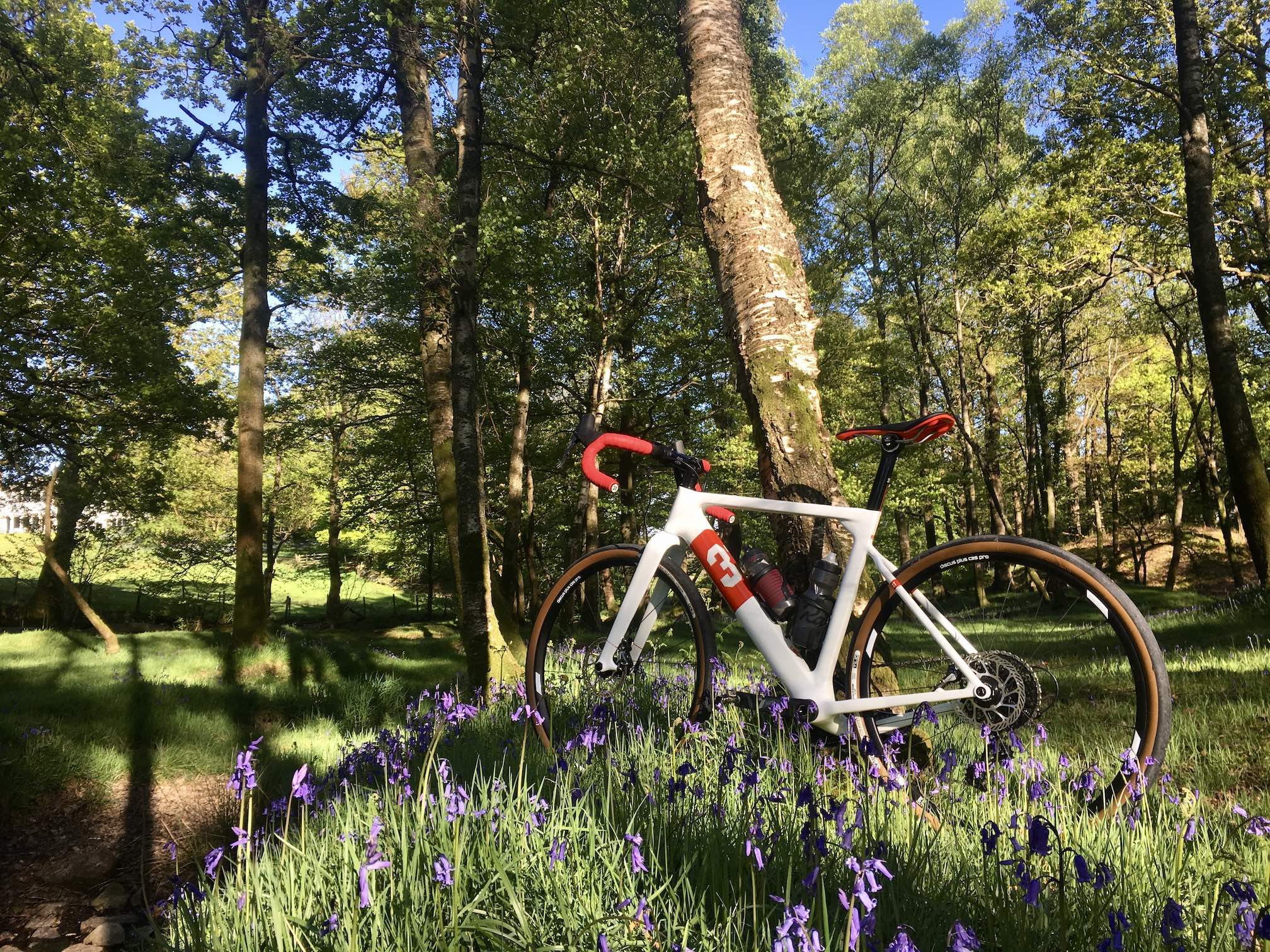 3T Exploro in 650b guise with 44mm tyres. It may not be the purists choice, but it never fails to make an impression
With my aim of keeping the wheel and tyre setup as light as possible, I swapped the semi-treaded gravel tyres for slick Gravel King's in 44mm guise. The tubeless versions come in well under 400g per tyre, and just about squeeze beneath XL Raceblade mudguards, but even so they look comedic next to a 'normal' road bike. Had I made a very expensive error of judgement? It wouldn't be long until I'd have an answer, with the iconic Fred Whitton route in the UK's Lake District planned for the following weekend.
Aside from tyre choice, the other big change was reserved for the cockpit. I'd spoken to several endurance riders who maintained that flared drops helped to relieve some wrist pressure on long rides, and so I swapped in a Whisky Parts no.7 bar, with its 24º flare and very shallow drop, double-wrapped with the (highly recommended) FWE 'Vex' gel bar tape. I also ordered a custom frame bag from Alpkit, to make the most of every bit of space in the very restrictive triangle on the Exploro.
Fast-forward 7 days, and after a short setup ride to tweak the bike fit, I rolled out of Ambleside with over 180km and 3,500m of climbing ahead. Featuring some of the UK's toughest and most varied roads, it's hard to imagine a better all-round test for either bike or rider.
Gliding initially over some recently-laid 'tourist trail' tarmac skirting the picturesque Lake Windermere, I was immediately struck by the audible 'whirrrrrrr' of rubber on road thanks to the large tyre volume and relatively low pressures (40psi). It's a strangely soothing sound, picked up on immediately by my riding partner for the event, and it honestly helps me psychologically in the harder moments of a ride. More importantly, swerving for potholes and road imperfections is now a thing of the past, making for a much less mentally taxing (and physically jarring) ride. I'd go as far as to say that for typical UK routes and road conditions, it's not only a more comfortable setup than the Domane, but also faster, as evidenced by my Strava segments. However, the real victory for my original brief is the dramatically reduced post-ride fatigue.
Any conceptual concerns I had over gear ratios moving to a 1x drivetrain were also quickly put to bed. With a 44T chainring and 11-42T cassette I was able to spin comfortably at 45-50km/h on faster roads, but still haul myself up famously steep climbs like Wrynose and Hardknott Pass without stopping. I'm honestly yet to feel like I'm caught between ratios either, although that could certainly differ for others depending upon riding style. Now I'm dialled in I would honestly struggle to give up the near-silent running and one-finger shifting the 1x setup offers, and dropped chains are (almost) a thing of the past. In fact the only 'negative' I can find is that the chain needs more regular attention than with a traditional 2x setup, but that's not really such a bad thing. As for the bars, it's the only thing I've since changed, switching to a less extreme 12º flare more suited to my personal physique and a road-biased setup.
I've since ridden everything from South Downs Way singletrack, Welsh bike packing and a 300km road Audax, and even crested the Col de Tourmalet, with nothing but a slight tweak of tyre pressures in between. It seems that you really can have one bike to do it all without making big compromises. I've also bought a second set of dedicated gravel wheels with treaded tyres for convenience, but to be honest unless it's really wet and slippery, the slick Gravel King can handle a surprising amount of mud and gravel, especially if you remove a little more air.
Is there anything I would change? Well, I opted for mechanical gears primarily for reliability and repair reasons - some of my rides take me fairly 'out there' and there is a real benefit to being completely self-reliant for running repairs - but I can't deny thoughts of an electronic 12-speed setup still enters my head now and then. And maybe some super-fancy rubber to really max out the ride quality. Otherwise, I can honestly say that, for my needs, it's riding perfection.
For more information on Audax, please visit Audax UK.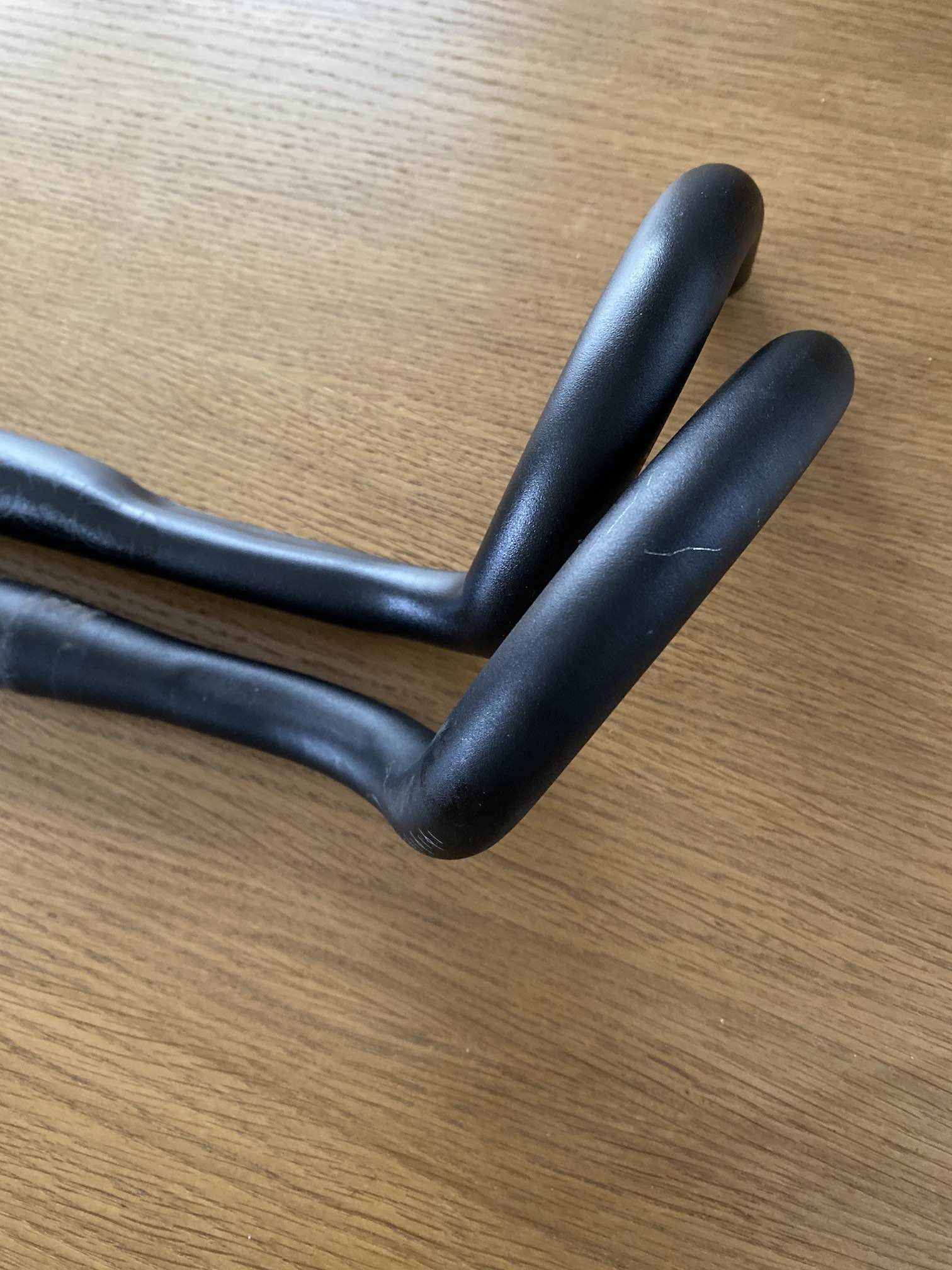 24 vs 12 degree bar flare
Ed Bartlett is the Founder of Kostüme